Latest News
Points updated through Seafair
Four way tie for first with all kinds of Deck2Deckers within striking distance!
2019 Seafair Preview and Three 2 Think About
After a thriller on the Columbia River, the H1 fleet heads west to Seattle for the HomeStreet Bank Cup at Seafair August 2-4. The river took its toll, getting the better of the U-3 Griggs Ace Hardware (broken prop and hull damage) and the U-440 Bucket List Racing (gearbox problems). Still expected to appear in Stan Sayres Pits:
U-1 Delta RealTrac (Andrew Tate)
U-6 Miss HomeStreet (Jimmy Shane)
U-7 Boitano Homes / Spirit of Detroit (Bert Henderson)
U-11 Reliable Diamond Tool presents J&D's (Jamie Nilsen)
U-12 Graham Trucking (J. Michael Kelly)
U-98 Graham Trucking American Dream (Corey Peabody)
U-99.9 KISW Miss Rock (Brian Perkins)
U-1918 Oberto Specialty Meats (Jeff Bernard)
Three to Think About:
Rock On: The U-99.9 PayneWest Insurance morphs into the New Miss Rock as Seattle radio station KISW FM teams up with Go Fast Turn Left Racing. Brian Perkins nearly sat on the beach in Tri-Cities after the 99.9's escape hatch unexpectedly dropped to the bottom of the Columbia on Friday. A loaner off the former U-16 Miss E-Lam Plus (rushed over from Chelan) saved the weekend and allowed Perkins to post a respectable 988 points, a good showing as the kinks are worked out of this new boat. Racing at home with all resources at their disposal, expect a strong effort from the Miss Rock camp. A good option for your second Seafair pick this weekend.
Two Picks, Less Points: Last weekend's Water Follies offered Gold-Cup style heat action, with four flights plus a final, for a 2100-point weekend available to the top boat. The Seafair Festival prioritizes its airshow and only runs three flights of heats before the HomeStreet Bank Cup race. Deck2Deckers must pick two boats again, but the weekend now only offers 1700 points for a perfect performance.
Bayfair Bound: As the penultimate contest in the short H1 2019 season, Seafair will make or break many Deck2Deckers. Attrition having already claimed the U-3 and U-440, canny players are looking beyond Lake Washington to determine who might be left in San Diego after they spend two picks in Seattle. The Miss Madison camp has deep pockets, a backup hull, and is driven to reclaim the U-1 designation; count on the Miss HomeStreet to appear on Mission Bay in September. Sponsor and owner Rob Graham is perhaps equally motivated to campaign his U-12 in California, but little else is guaranteed in this shaky sport. To win Deck2Deck, you must still have fuel in the tank on the Bill Muncey Racecourse!
Columbia Cup Points Updated
After a thrilling Columbia Cup that saw JMK best odds-on favorite Jimmy Shane, the Deck2Deck standings are shaken up. Log in to see who's leading your league and the national D2D points deal.
Score Card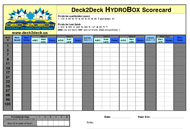 Standings
8818

skidspray

8818

Brendon75

8818

Dan Clemensen

8818

TFox

8816

Keith

8799

Pepsi Joe

8734

DAN'S RA...

8734

U-75

8636

kal

8499

JSchue206

8499

John Racing

8470

Cincinnati K...

8470

Sweet Fleet ...

8470

Luka Sophia ...

8470

Diamond Cup

8370

BB Unlimited

8354

Turn2Buoy

8321

Kevin L

8309

Scott Kuntze

8299

Big Mac 85

8239

Handsome Tra...

8211

Miss Chrysle...

8154

Matt Johnson

8152

fan4life

8152

Anthony J

8128

dennisc10

8109

Jeff55

8109

hydrofreak

8109

PAK ATTACK

8103

H1N1

8070

5 to the 5

8045

U-2

8044

Evan

8035

HydroInsider

8034

Chris Porten

7970

Miss Seanweiser

7970

HydroDan'...

7966

jemstb Racing

7961

Steve in the...

7961

KirkH

7961

Dennis Clark

7917

Deltron3030

7917

TimCollinsY1

7914

Fox

7891

Blue Angel

7871

Trick-bandit

7864

datsunaholic

7854

Mick

7845

Stan

7845

Tait Meyer