Latest News
Congrats to BB Unlimited. Deck2Deck National Champion for 2018!
1 BB Unlimited 10,028
T2 Ksauley6 9,836
T2 Jeff55 9,836
3 datsunaholic 9,792
T4 BrandonD 9,751
T4 Gearbox96 9,751
T5 Kevin L 9,642
T5 HydroDan 9,642
T6 FCBoats 9,598
T6 fan4life 9,598
T6 Jerry 9,598
7 Swellcraft1998 9,564
8 mdamitio 9,531
9 Blue Angel 9,454
10 Willie Phillips 9,437
11 Diamond Cup 9,426
12 Miss Chrysler 9,343
13 Daktari 9,338
14 HandsomeTransom 9,318
15 Brendon75 9,296
2017 Bayfair Preview and Three 2 Think About
Deck2Deckers, it all comes down to this: the 2017 Deck2Deck Champion will be determined on Mission Bay as San Diego Bayfair roars this weekend. The last race of the H1 Unlimited season will host a meager five boats in the pits. Such a low turnout has scrambled the normal racing schedule and served up a new presentation for the fans: heats 1A, 1B, 2A, 2B, and a final, in which reportedly all boats will run. Including qualifying, 2100 points will be up for grabs, making Bayfair a repeat of the Columbia Cup point-earning opportunity.

Fantasy players, if you've got any arrows left in the quiver, fire away this weekend, and consider yourself among the fortunate Deck2Deckers not shooting blanks this weekend. Deck2Deck has been especially challenging this year with the combination of a short season and high attrition. The 2017 winner will likely be determined by canny selections earlier in the season rather than the San Diego finale. But don't give up—things may get goofy, and the unforgiving saltwater racecourse could easily reward pluck and determination as often as it yields to raw speed.

Likely boats at Bayfair:

U-1 Miss HomeStreet Bank, Jimmy Shane
U-9 Real Trac / Delta Gear, Andrew Tate
U-11 DiJulio Presents Miss J&D's, Tom Thompson
U-12 Graham Trucking, J. Michael Kelly
U-440 Bucket List Racing, Dustin Echols

HydroDan's Three 2 Think About:

Money, Marbles, Chalk: Andrew Tate, U-9 Jones Racing chauffeur, trails defending U-1 designee Jimmy Shane by just 279 heading into Bayfair. Both the Miss HomeStreet and Jones teams feel the pressure from J. Michael Kelly in the U-12 Graham Trucking, who is just 315 points behind Tate. These top dogs will duke it out for the national points deal all weekend, and fantasy players should expect intense racing. The modified heat format will have no "lucky draws," but instead serve up five runnings of the final. There is simply no telling which of these three will be ahead in each heat, or if an error will produce an unexpected outcome. But if you have saved any of these three boats for Bayfair, you know what to do.

Detroit Demolition Derby: The President's and Gold Cups were not gentle to the H1 fleet. Returning owner Dave Bartush's hopes—and boat—were dashed in the GC final when rookie Bert Henderson hooked the U-7 Spirit of Detroit in front of JMK, leaving nowhere for the U-12 to go but over his decks. The Graham boat is back together, but the U-7 is not. Be sure to consult our list of probable boats so you do not select any of the San Diego absentees. Among the missing are fan favorites U-3 and U-99.9.

Props to the U-11: With the backing of Reliable Diamond Tool and J&D's, the Unlimited Racing Group will head to California to complete the H1 circuit and give Deck2Deckers another fast choice. While an H1 National Points podium finish is just out of reach this year, the 11 is positioned to reward fantasy players this weekend any time that the top dogs make a mistake. While the U-440 does not have the beans in the engine compartment to keep up with the T-55s, Tom Thompson's U-11 posted quick speeds in Detroit qualifying that should return in San Diego. A thrown prop brought a premature end to URG's Detroit campaign, but with repairs complete, the low boat count on Mission Bay may benefit this team that has the potential to podium in each Bayfair heat.
President's + Gold Cup Preview: Three 2 Think About in The D
As is customary, the APBA Gold Cup will take place in "The D," but unlike past seasons, this year's race weekend in the Motor City will feature two distinct trophy races – a Detroit doubleheader! Saturday will provide two sets of qualification heats and a Final Heat for the awarding of the President's Cup. This trophy, contested for many years on Washington D.C.'s Potomac River, retired since 1977, has been brought out of retirement in 2017. Sunday will showcase Detroit's big dance — THE GOLD CUP. Three sets of qualification heats and a final are slated for the eight boat teams set to pack the Horace Dodge Pits. How has the complexion of the D2D points battle changed? The 2017 running of the Gold Cup does not feature four sets of heats, as is typical. The Columbia Cup in Tri-Cities carried more fantasy weight this season with its four sets of qualification heats and the winner-take-all final. The short President's Cup format will make it the least valuable race of the short five-race season.

The teams vying for all the money, marbles, chalk, and glory are:

U-1 Miss HomeStreet Bank, Jimmy Shane
U-3 Griggs presents Miss Ace Hardware, Jimmy King
U-7 Spirit of Detroit, Bert Henderson (Rookie)
U-9 Real Trac / Delta Gear, Andrew Tate
U-11 DiJulio Presents Miss J&D's, Tom Thompson
U-12 Graham Trucking, J. Michael Kelly
U-99.9 Leland Unlimited presents the Carstar powered Miss Rock, Kevin Eacret
U-440 Bucket List Racing, Dustin Echols

HydroDan's Three 2 Think About:

The Spirit Returns: Detroit's own Dave Bartush and his Spirit of Detroit race team have purchased the ex-Budweiser Beer Wagon T-5 hull. It was last campaigned by Ted Porter and Precision Performance Engineering as Graham Trucking II in 2016. The U-7 will run in Detroit chauffeured by Bert Henderson of Brockville, Ontario. Henderson is a decorated and highly successful driver from Canada's Hydro Racing League series. It should be understood that Henderson will need to qualify as a driver in the unlimited ranks, and will likely have to start heats from behind and outside until the officials declare him fully qualified.

Orange Crush: Barring a minor miracle, the undersized and underpowered U-440 likely isn't a threat to win a President's Cup or Gold Cup trophy this weekend. But it's impossible not to root for the hard-luck team that keeps coming back from blowovers, gear box gremlins, and broken propellers. Like they say, if this team didn't have bad luck it wouldn't have any at all, but the love affair between hard core boat fans and Bucket List Racing is real!

Her Name is Miss Rock!: Although outclassed in many respects, the U-99.9 Miss Rock has finished every heat she has entered in Seattle and Tri-Cities in 2017. Her best finish was a 2nd place in Heat 1B at Seafair. Back at the controls of the old girl is regular driver Kevin Eacret, who returns after rehabbing a leg injury. Eacret replaces relief driver Greg Hopp who filled in admirably thus far. For those D2D fantasy players searching for a depth pick at this point in the season, consider asking Miss Rock to the big dance this weekend.
Score Card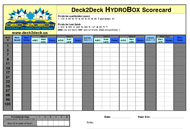 Standings
10028

BB Unlimited

9836

Ksauley6

9836

Jeff55

9792

datsunaholic

9751

Gearbox96

9751

BrandonD

9642

Kevin L

9642

HydroDan'...

9598

fan4life

9598

Jerry

9598

FCBoats

9564

Swellcraft1998

9531

mdamitio

9454

Blue Angel

9437

Willie Phillips

9426

Diamond Cup

9343

Miss Chrysle...

9338

Daktari

9338

PRIDE OF PAY...

9318

Handsome Tra...

9296

Brendon75

9243

Wat up Racin

9243

tClemo

9232

Racegirl

9232

FiveTimeCham...

9185

Corm

9161

Rabid Pet Ro...

9154

U25 all the ...

9090

30 PACK

9046

TFox

9046

Fox

9043

Griz6

9027

Jim Clark

8919

Hot Hull Mot...

8809

Chiefs87

8806

boatertim221

8775

Turn2Buoy

8772

Sticky Beanbag

8744

miltonwolfie

8663

Bob M

8617

Trick-bandit

8605

Great White ...

8594

Ronbo

8578

hydrofreak

8523

5 to the 5

8516

TheProf2

8429

Treysfordays3

8419

Come Back N ...

8344

Stan

8253

dennisc10