Latest News
New Champions Crowned in SD!
When the smoke cleared and the water settled it was the U-1 Miss Homestreet lifting the National Championship trophy, J. Michael Kelly outpointed Jimmy Shane for the driver's crown, and Kevin L took home the D2D title scoring 9570 points in another hard fought fantasy season.
Congrats to all of our champions this season!
San Diego Bayfair: Make Two Picks
The wait is over! San Diego Bayfair is here, and unlimited hydroplanes return to Mission Bay this weekend. At this final race of the H1 and Deck2Deck seasons, fantasy players must PICK TWO BOATS. Sounds easy, but a lower boat count may present a challenge, depending on one's early-season picks.
According to H1 on Friday 9/17, a six-boat field is expected at Bayfair.
2021 Bayfair field:
U-1 Miss Madison Racing
U-8 Miss Tri-Cities
U-9 Pinnacle Peak Consultants
U-11 Miss J&D's
U-40 Beacon Plumbing
U-440 Bucket List Racing.
Not appearing: U-12 Graham Racing (driver: Andrew Tate), U-21 Go Fast Turn Left, U-98 Graham Trucking.
Points updated for Columbia Cup 2021
Points for both of your picks at the 2021 Columbia Cup are now entered. Good luck as you make your final selections ahead of San Diego Bayfair, coming up in September.
Score Card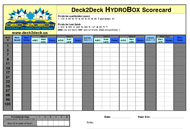 Standings
9570

Kevin L

9472

Jim Clark

9410

fhanson2005

9268

JoeyHydro12

8939

Green Dragon

8920

Chet the Jet

8800

kal

8800

Mallard Mangler

8735

hydrofreak

8735

Dan Clemensen

8735

Sticky Beanbag

8667

Chris Porten

8660

5 to the 5

8640

Miss Seanweiser

8640

Scott Kuntze

8635

Tim Johnson

8633

Pepsi Joe

8571

DAN'S RA...

8348

Ksauley6

8348

KirkH

8348

Kelsey Best

8315

U-75

8298

Villwock Rulz!

8253

Dennis Clark

8253

JSchue206

8253

Dead In The ...

8253

Harley Gray

8253

The Hopper

8253

racefanwfo

8198

Hydrokid

8150

JC Steach

8150

U25 all the ...

8150

fan4life

8115

chucks

8038

JesseD

7975

Brent

7930

datsunaholic

7917

RockBoat

7916

lmarlow1

7897

TimCollinsY1

7817

Jere

7788

Mick

7788

Jerry

7712

Roostertail ...

7712

Ducklady

7705

Sheiktoo

7694

AnthonyJ

7694

Matt Johnson

7689

KRAM

7672

Deltron3030