Latest News
D2D Returns for 2021!
Dear Deck2Deckers: We've missed you! It's been too long since Bayfair 2019.
Team D2D is happy to say that fantasy hydroplane racing will return in June to coincide with the upcoming 2021 H1 Unlimited season. With only three or four races expected, the stakes will be high. Expect site updates in the coming weeks! Let's go racing!
2019 D2D Champion!
Congrats Pepsi Joe, who captured the crown with 9679 Points on the year!
Below is Pepsi Joe's path to the Fantasy Title:
Guntersville Lake Hydrofest: U-7 – Spirit of Detroit: 1425
Madison Regatta / Gold Cup: U-6 – Miss Madison Racing: 2100
Tri-Cities Columbia Cup: PICK 1 of 2 – U-1 – Jones Racing: 1705
Tri-Cities Columbia Cup: PICK 2 of 2 – U-1918 – Oberto Racing: 1238
Seattle Seafair PICK 1 of 2: U-12 – Graham Trucking: 1395
Seattle Seafair PICK 2 of 2: U-99 – KISW/CARSTAR: 936
San Diego Bayfair: U-11 – Unlimited Racing Group: 880
2019 San Diego Preview & Three 2 Think About
Deck2Deckers, the San Diego pick deadline has been extended to 2:30 pm Pacific Time on Saturday. Heat 1a is scheduled for 3:00 p.m.
It all comes down to this: the 2019 Deck2Deck Champion will be determined on Mission Bay as the running of the finale at San Diego Bayfair is set for this weekend. The last race of the H1 Unlimited season will host six H1 race boats. Bayfair will utilize the "Roostertail" format in which all 6 boats will run in each of the 4 qualifying heats and again in the final heat for the Bill Muncey Cup. A total of 2100 points is possible including qualifying points.
Bayfair Boat Roster:
U-6 Miss HomeStreet Bank, Jimmy Shane
U-7 Spirit of Detroit, Bert Henderson
U-11 J&D's Presented by Reliable Diamond Tools, Jamie Nilsen
U-12 Graham Trucking, J Michael Kelly
U-98 Graham Trucking American Dream, Corey Peabody
U-1918 Oberto Super Salami, Jeff Bernard
While 1,443 points separates the U-6 from the U-12 there is a four way logjam for first in Deck2Deck overall competition.
And don't forget, one lucky Deck2Decker will be selected to win an Oberto Prize Package. All you need to do is make a boat selection for San Diego Bayfair!
HydroDan's Three 2 Think About:
Red Streak: Can J. Mike and U12 Graham Trucking capture checkers at the Bill Muncey Cup and finish off the 2019 season with three victories in a row?
Learning Curve: Since coming back on the scene in the U-11, Jamie Nilsen has flashed speed and racing brilliance for Scott "Pyro" Raney and company.
Top Jimmy: After a one year hiatus it appears Jimmy Shane and the U-6 Miss HomeStreet Bank are poised to regain thei place atop of the H1 mountain in 2019.
Score Card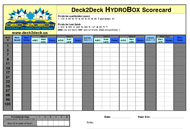 Standings
9679

Pepsi Joe

9544

TFox

9544

skidspray

9544

Brendon75

9544

Dan Clemensen

9429

Evan

9379

John Racing

9379

JSchue206

9362

kal

9350

Luka Sophia ...

9350

Diamond Cup

9350

Cincinnati K...

9350

Sweet Fleet ...

9322

fan4life

9322

Anthony J

9299

Fox

9250

BB Unlimited

9234

Turn2Buoy

9201

Kevin L

9091

Miss Chrysle...

9087

TimCollinsY1

9035

Scott Kuntze

8996

chucks

8989

Jeff55

8989

hydrofreak

8989

PAK ATTACK

8983

Keith

8915

HydroInsider

8915

thriftway r...

8914

Chris Porten

8901

DAN'S RA...

8901

U-75

8880

Matt Johnson

8879

Gearbox96

8854

dennisc10

8841

Dennis Clark

8841

Steve in the...

8841

KirkH

8803

BrandonD

8798

Harley Phillips

8771

Blue Angel

8744

datsunaholic

8737

PRIDE OF PAY...

8725

Stan

8725

Tait Meyer

8696

Miss Seanweiser

8696

HydroDan'...

8661

Jayson2919

8659

Hydrogears

8628

Chet the Jet